Finding the right eye cream for your sensitive skin is a challenge. However, women with sensitive eyes, delicate skin or are acne-prone can face even greater difficulties in finding the right eye cream.
Why and how? Well, if your skin is prone to breakouts you may have a hard time choosing the right product which won't irritate you, or dry out your under eyes. Not only this, but some skincare products can also cause clogged pores, blackheads, as well as milia!
You will likely want to avoid this, so here, we will present and review some of the best rated and highly talked about eye creams for sensitive skin types.
Find your perfect match by browsing through and reading the article below!
Top 10 Eye Creams For Sensitive Skin Types
#1 – Fresh Crème Ancienne Eye Cream
In my opinion, Fresh Crème Ancienne is the best eye cream for sensitive eyes. It comes in a 0.5 oz tube and the lotion has been handmade in a monastery. Fresh is a well-known (highly-priced) brand that has some amazing skincare solutions.
This cream is applied around the lower eye area, and with regular use, it can nourish, firm and reduce any fine lines, signs of aging as well as puffiness. I certainly feel an instant sense of hydration after using the product. You should expect to experience firmer skin in 4 weeks, and your appearance of fine lines and wrinkles will slowly reduce with regular use.
The main ingredients of this moisturizing eye cream are meadowfoam, seaberry, and rosewater. While this is not a collagen eye cream, the meadowfoam oil will give you a softer complexion and rosewater will soothe and calm any skin irritation. You can happily apply this cream twice a day since because it is so gentle.
#2 – Burt's Bees Sensitive Eye Cream
This Burt's Bees eye cream is specifically made for sensitive skin types. The tube is filled with 0.5 ounces of product, and it is 98.9% natural, perfect for those all-natural lovers! Women tend to gravitate towards it since it is dermatologically tested and hypoallergenic, making it perfect for any type.
It has been clinically proven to moisturize without causing any irritation or redness and includes vitamins, minerals, phytonutrients, and antioxidants. It is also very affordable compared to some other types of eye wrinkle cream on the market, and it also has been awarded the National Eczema Association Seal of Acceptance.
You can use the cream twice a day if needed. Its main ingredients are cotton extract, rice extracts, as well as Aloe vera. All of these can combat any puffiness while giving you a healthy and radiant complexion. The cream also has a soothing scent and will work wonders for skin around the eyes.
#3 – RoC Retinol Correxion Sensitive Eye Cream
This is a retinol eye cream that comes in a 0.5 oz tube, which is fairly priced and is considered as a mid-range product. The brand RoC made sure to develop a cream that is specifically made for sensitive skin around the eyes as well as mature skin. In fact, according to their survey, 96% of women have noticed a drastic difference in the appearance of fine lines and wrinkles, dark circles and signs of aging after 3 weeks of regular use! No one in the eye treatment survey experienced irritation, which is great if you are particularly sensitive around the eye area.
The cream combats crow's feet as well as discoloration while feeling non-greasy and being oil-free. It is also non-comedogenic, so it won't clog your pores. Thanks to retinoids and hyaluronic acid in the formula, the RoC cream sinks quickly into the pores and will give you a firm under eye.
Apply the eye serum once a day or once every other day since retinoids can be hard to get used to, especially if you've never used them before. Be slow and careful, and gradually build up your use.
#4 – Eau Thermale Avene Soothing Eye Contour Cream
The Avene eye cream comes in a smaller tube where you get only 0.33 oz of the product. This means that you may go through several tubes quicker than you might like. Avene is a well-known pricier brand, usually mostly loved by mature skin types.
This is a lightweight cream that can soothe and relieve under-eye puffiness making it a good eye bags cream and for the eyelids also. It is also ophthalmologically tested and contains an anti-radical agent. Avene has been around for over 270 years, and the company specializes in products for delicate skin. So they know how to soothe your sensitive epidermis while giving you hydrated under eyes.
Thanks to its extracts of chamomile and hyaluronic acid, it offers a feeling of extreme hydration and moisturization. With vitamin E you will be protected from radicals, which results in having softer with softer skin in the under-eye area. You can also use it morning and night if you feel like it.
#5 – Cetaphil Hydrating Eye Gel
Cetaphil eye gel comes in the 0.5 oz tube which provides strong hydration, perfect for women who have dehydrated, dry or dull skin. The gel is not expensive and suits any skin types. Its consistency is thicker since it is a gel, and it may take a bit more time to sink in. However, once it does, you will feel hydration for 24 hours! It is also dermatologically tested and approved! Plus, it is hypoallergenic with a refreshing cooling sensation.
The gel will give you brighter under eyes, a reduction in dark circles while feeling hydrated and a lot softer than other creamy products. It is filled with licorice extracts, hyaluronic acid as well as grape seed oil. You can use it once a night or more often if your skin is particularly dry.
#6 – Drunk Elephant C-Tango Multivitamin Eye Cream
Drunk Elephant has very good range of skincare products that can work wonders and perform the best if you combine with several different pieces from their line of cosmetic products. This pink tube has 0.5 oz of lotion and is filled with multivitamins that have brightening properties, particularly vitamin C. This makes it a great brightening eye cream for dark circles! It is quite expensive, but if you're experiencing severe dryness and your under eyes are sensitive as well as prone to irritations, you will like the effects of the cream.
Drunk Elephant cream is filled with plant oils, as well as peptides and vitamin C & E that will give you firmer skin under your eyes. The cream seems to be very powerful and made in the U.S. with high-quality ingredients. There is no fragrance, and you can use it every night. This one is applied best with light tapping motions.
#7 – Perricone MD Hypoallergenic Firming Eye Cream
Perricone MD Hypoallergenic Cream comes in a black & green 0.5 oz tube and is considered as a pricier eye cream. However, Perricone has a huge tradition and experience in manufacturing amazing skincare products. This cream can give you firmer and non-greasy under eyes, while easily absorbing and performing gently on any skin type. They have consumer and clinical tests to prove that you can experience firmer and brighter skin, a reduction in the look of dark circles as well as patch-free skin. Their results show that 91% of users had a significant improvement in crow's feet and fine lines.
Its key ingredients are olive polyphenols, squalene, and hyaluronic acid. These three can combat any visible loss of firmness as well as discoloration. They will perform on delicate eyes, and will gently penetrate the surface while leaving you with a plumper outcome. You can use this cream twice a day.
#8 – Fresh Black Tea Age-Delay Eye Concentrate
This is another Fresh favorite and a must-have product that has 0.5 oz in the jar. The Fresh Black Tea anti-aging eye cream is pretty pricey, but it is a great all-rounder and a must-have eye cream for mature skin types who need some age-defying products. The cream has natural antioxidant protection as well as the ability to firm your eye area skin and smooth down any fine lines and wrinkles. Most of its ingredients are natural as well as safe to use by women with delicate eye area skin.
The cream absorbs quickly and with ease while hydrating and de-puffing your under eyes. In fact, 100% of women feel intense hydration afterward, 91% have improved skin elasticity, while 88% of them will see improvements in their texture two weeks down the line. The black tea complex and the noni fruit juice will retain the moisture while saving you from any damaging free radicals and reducing the appearance of dark circles. You can use the cream at night by using a tapping motion with your finger.
#9 – Shiseido White Lucent Anti Dark Circles Eye Cream
Shiseido is an amazing skincare brand that women worldwide love and use as part of their routine. Their White Lucent cream is unisex and safe to use by both men and women. It is aimed at brightening the skin while reducing dark circles and the jar is filled with 0.53 oz of lotion but is not too pricey considering the fact that this is Shiseido. After applying it, many people notice an enhanced radiance as well as improved brightness of the under eyes. This is a great under eye cream for dark circles and has the ability to reduce them as well as discoloration over time. It is also dermatologically tested and safe to use on sensitive skin types.
Shiseido products are usually filled with high-quality ingredients such as hyaluronic acids and complex N that re-add moisture to the skin, reducing wrinkles and fine lines. This unisex cream should be used twice a day, especially if you have some discoloration and darkness along with your sensitivity.
#10 – Bobbi Brown Hydrating Eye Cream
Bobbi Brown products are always of good quality, and they do come at a hefty price. However, this hydrating eyelid wrinkle cream stores 0.5 fl ounce of product, and is safe to use by any and every skin type! This is a quick-absorbing eye cream that is free of any sulfates, glutens, as well as parabens. It is catered for and is safe to use by women with sensitive eyelids, as well as sensitive skin around the eyes.
The cream is formulated with enriched mineral water that will provide extreme hydration, while Aloe Vera and Witch Hazel extract will help to keep it plumped and nourished. There is also some squalene and jojoba seed oil which will provide you with a refreshing feeling. This eye cream should be used only at night.
How To Apply An Under Eye Cream?
We know that many people need to use eye cream and an under-eye cream can be applied morning and night. However, women with delicate skin types or younger ladies in their 20s may want to apply their eye creams only once a day. This way they won't break out and they will keep their chances of skin irritation to a minimum. Makeup can be applied over the top of them once they have dried.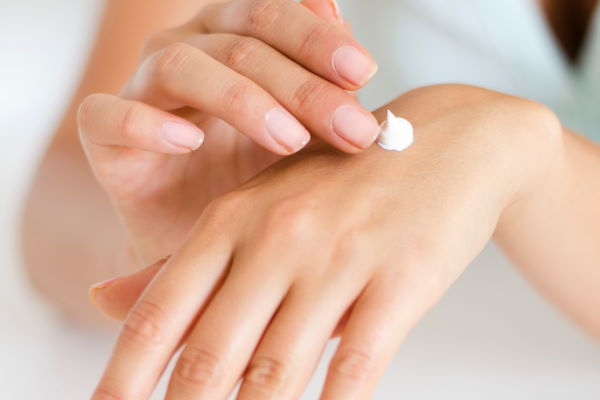 The best way to apply an under-eye cream? Use it at night on top of cleansed and moisturized skin. You should also apply any eye serums or creams beforehand. Make the eye cream application the last step in your routine. Apply the product with your ring finger and dab it in. Make sure you are very gentle and don't swipe the product, tapping motions will do the magic!
Which Ingredients Should You Avoid In Your Eye Cream If You Have Sensitive Skin?
Every skin is different, and this can vary from person to person. However, in most cases, you should avoid the following 4 ingredients and their potential side effects:
Fragrances
Perfumes and fragrances can irritate sensitive skin. Search for fragrance-free or unscented eye creams since these will suit you better.
Essential Oils
Essential oils become chemicals when exposed to sunlight. This can cause a photo-allergic response to some women. Ingredients such as lavender oils, mint, and tea tree oil should be avoided.
Harsh Exfoliants
Exfoliators are very harsh since they are mixed with scrubs and acids that can remove all the good oils from your skin's surface. Avoid these in any form.
Alcohol
Alcohol is very drying to the skin, especially astringent. Dryness means an increase in fine lines. To reduce the chances of wrinkles forming, make sure that none of your products contain denatured alcohol, especially if you have dry or sensitive skin.
Ready For Moisture?
Which of these ten eye creams speaks to you the most? You get to choose between 10 different brands, as well as low to high-end price points. All creams are catered towards sensitive skin, although some of them can combat different concerns. So different products work for different people. I also recommend combining these with a good collagen supplement or looking into ways to boost collagen production for the best results. Purchase the one which is in your budget range, and give it two weeks to see the results. They should be noticeable at that point, trust me!