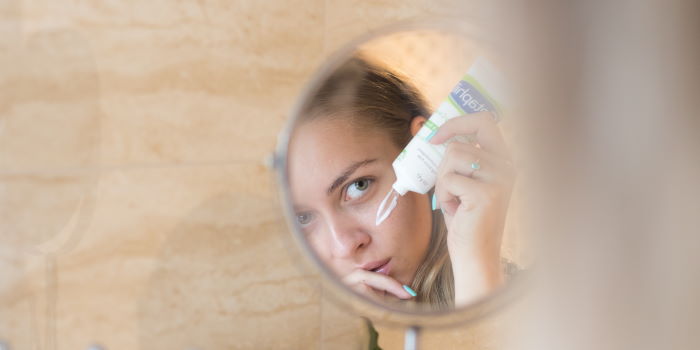 We all know that skincare is important. Everyone knows to wear moisturizer. But, you don't have to worry about anti-aging measures until you're, well, you know, almost there. Like in your 30s…
You may be surprised to know that the best way to avoid the sagging and fine lines indicative of old age is to start your under eye regimen in your 20s. So, what are the best eye creams?
Here we break down what we think are the ten best eye creams for your 20s. We take a look at what sets them apart, unique ingredients of each, and other information that will help you decide which eye cream is best for you.
The Best Eye Cream For Your 20s
1. Drunk Elephant Eye Cream
The Drunk Elephant C-Tango Multivitamin Eye Cream is formulated to brighten and firm under eye skin. It contains a restorative combination of eight different peptides. The unique addition of cucumber extract sets this cream apart from their competition.
This eye cream has been designed to provide you with a refreshed and renewed appearance, whether you apply it in the morning or right before bed. It's completely fragrance free so the chance of irritation is reduced if you have a skin sensitivity. It works great for any skin tone or skin type.
The powerful combo of antioxidants, plant oils, fruit extracts and enzymes work together to reverse even harsh damage, help wrinkle prevention, replenish ceramides and will keep your eyes radiant for years to come. Drunk Elephant stands behind its quality and is cruelty-free, meaning they never test their products on animals.
2. Baebody Eye Gel
The Baebody Beauty Morning and Night Eye Gel is marketed as revolutionary. The unique formulation takes advantage of powerful, but natural, anti-aging ingredients like hyaluronic acid, argan oil, retinol and activated charcoal, proven to protect the delicate skin under your eyes.
It has a clear gel texture and works really well on dark circles or fine lines. It can also be used underneath concealer and makeup very easily. Hyaluronic acid strips away dead skin cells to make your eye area look as young as the day you were born. Vitamin E also works with jojoba oil and amino acids to give you exceptional moisture and elasticity. Also, the peptide complex helps with skin collagen production. If you are interested in finding out more about collagen, check out the top collagen creams.
Use in conjunction with their entire line of products for maximum benefit. All of Baebody's products are cruelty and paraben free.
3. LilyAna Naturals Eye Cream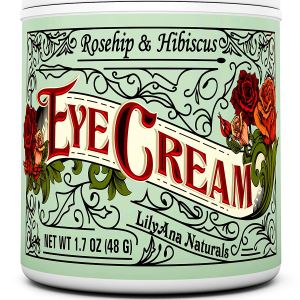 LilyAna Naturals Rose and Hibiscus Eye Cream is made up of 94% all natural ingredients. They're certified organic, vegan, and cruelty free which means they never test their products on animals.
This formulation is effective for both men and women, combining vitamins with nourishing oils to refresh and renew your eye area. Fine lines and dark circles don't stand a chance against their proprietary blend of vitamin C, vitamin A, rosehip seed oil, and hibiscus flower extract.
This is a cream that is great for both morning and nighttime use and it's light enough to be worn under makeup.
4. Pure Biology Total Eye Serum
Pure Biology Total Eye is formulated specifically for hydration and anti-aging in the under-eye area. Their combination of hyaluronic acid, shea butter, aloe vera, argan oil, and two proprietary complexes with plant extracts provides some of the most dramatic wrinkle reduction of any of the non-prescription products on the market.
This vitamin C and caffeine filled formula will lift, tighten, brighten, and renew, all while feeling light as a feather and not greasy at all. It also offers some sun protection against UV rays and helps with collagen production. Their airless pump vacuum system also helps you get every last drop of product from the bottle, making sure you also get your money's worth.
5. Honey Girl Organics Face & Eye Cream
This cream is a great all around product. If you're a person who prefers an all-in-one solution, and doesn't want to apply multiple different face creams and ointments, this may be a good choice for you.
The ingredients, including essential oils, and glycolic acid make this cream fantastic to use as an under eye cream overnight, and an all over facial and under eye moisturizer during the day. It's light enough to wear under makeup, while still providing hydration and anti-aging benefits.
6. It Cosmetics Bye Bye Under Eye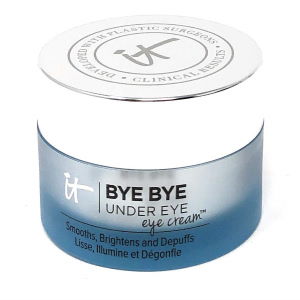 Bye Bye Under Eye, by It Cosmetics, is another great eye cream. Their formula is guaranteed to hydrate, smooth, brighten, and de-puff your under eye area.
Great for daytime or nighttime use, Bye Bye Under Eye can be used with your regular face moisturizer for an extra boost of eye moisture. It's also light enough to be used under makeup.
7. Ole Henriksen Banana Bright Eye Creme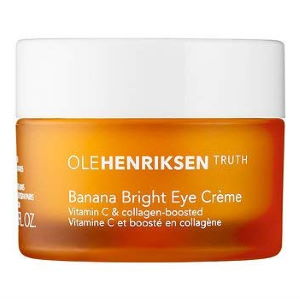 Ole Henriksen Truth Banana Bright Eye Cream stands up to the expectations of the Ole Henrikson line of products. Great for fine lines, wrinkles, dark circles, and dryness it's a great overall eye cream.
This product features a combination of vitamin C and collagen to boost firmness and hydration for the area under your eyes.
8. Fresh Black Tea Age-Delay Eye Concentrate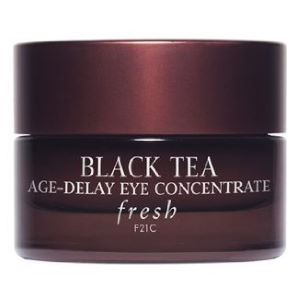 This eye cream moisturizes and firms your under eye area with a combination of natural ingredients and age-defying antioxidants. Made in France, its cooling formula brightens up dark circles and gets rid of puffiness.
In addition to black tea's anti-inflammatory properties, this eye cream also has mild sun damage protection, and anti-aging qualities. Tired looking eyes are revived and look young again with this amazing product and it's cooling effect.
Get the full benefit of the powers of tea by using Fresh's entire line of Black Tea face cream products.
9. Burt's Bees Sensitive Eye Cream
Burt's Bees Sensitive Eye Cream is unique in the eye cream world. Burt's Bees does it again by using all natural ingredients to create a product that exceeds expectations, especially at this price point.
It's made for sensitive skin and is infused with rice extracts, aloe vera, and other natural ingredients to decrease puffiness and add moisture back into dry, thin under eye skin. Using Burt's Bees Sensitive Eye Cream as part of your daily regimen will give you a clearer complexion, naturally.
This eye cream has been dermatologist tested and has received the National Eczema Association Seal of Acceptance.
10. Kiehl's Creamy Eye Treatment with Avocado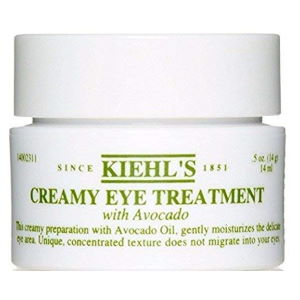 Last but not least is Kiehl's fantastic avocado blend. This brand has been making faces more radiant since 1851.
By utilizing the healing powers of avocado oil, this eye cream treatment stands out from the crowd. The oil also helps gently thicken the formula, to avoid it migrating into your eye and making it super safe to use.
Kiehl's concentrated formula means you will get more uses per ounce than other products.
FAQ
Should you use an eye cream in your 20s?
Many people use an eye cream in their 20s. It's often when they notice their first wrinkles in the corner of their eyes. But many also use them before seeing any creases as the prevention is better than cure.
Is it OK to use anti-aging products in your 20s?
It has been stated by dermatologists that it is OK to make use of anti-aging products in your 20s. These anti-aging products offer many benefits as the skin ages and can be added to your daily skin care routine during your early 20s.
Which eye cream is the best?
The Drunk Elephant eye cream was chosen to be the best by me.
How should I take care of my skin in my 20s?
In your 20s, you should start looking into exfoliating, night serums and using a good eye cream.
Self-Care Keeps You Radiant For Your Whole Life
We hope this list of our favorite eye creams helps you find your perfect match if you are in your 20s. Starting a skincare regimen early will keep your whole face fresh and young, not just your eye area.
Make sure to put your eye and face cream on before going to sleep, after you've washed your makeup off. Your face and eyes will thank you in the morning. Even while putting in long hours or indulging a bit too much, being diligent with your evening face and eye routine helps you avoid raccoon eyes and puffy dark circles.
If you have dark skin, be sure to check out my post on eye creams for African skin.
Want to learn more ways to stay looking great and feeling youthful? Exercise is a great place to start maintaining youth from the inside out.