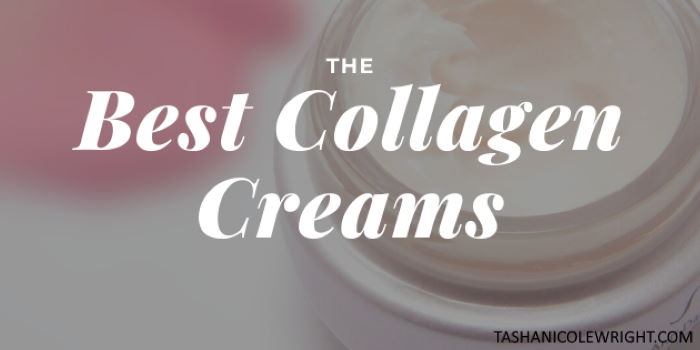 You've probably heard that collagen is important for you by now for like, what, 50 times? Well, in case you never knew why it was so important we will debunk this for you in our article!
Collagen is the most abundant protein in the human body, and it has important functions such as increasing our muscle mass, preventing bone loss, giving us improved joint health (ligaments and connective tissue), as well as giving us better skin!
But as we age, our natural collagen production levels slow down. So women get addicted to adding collagen to their diet or when trying to find an anti-aging cream since it is well-known that it can reduce the appearance of fine lines, wrinkles, dryness, and it can slow down your skin's aging process!
Sounds amazing, doesn't it?
Well, if you want to experience smooth, younger-looking, and hydrated skin, you will need to find the best collagen creams for you!
Our Top 8 Collagen Creams
#1 – ELEMIS Pro-Collagen Marine Cream
Elemis skincare products are known as being amazing luxury and pricey items, due to their high-quality and impeccable ingredients. The Elemis Marine Cream product is the best collagen cream out there! It is clinically proven to work and it can reduce signs of aging, wrinkle and improve complexion in less than 14 days!
Thanks to its ingredients including Padina Pavonica as well as Gingko Biloba, the skin will experience elasticity and suppleness. Not only that your skin will feel moisturized and nourished, but you will also be protected thanks to its SPF30 sunscreen protection. It also contains shea butter, jojoba
How To Apply It?
Use the collagen cream only in the morning and apply it onto cleansed and dry skin. Make upward stroking motions when applying the product.
Pros
Nourishing & filled with high-quality ingredients
Has an SPF 30
For any skin type
Does wonders for wrinkle reduction
Smells lovely
Cons
Very expensive
Should be used only during the day
#2 – L'Oréal Paris Collagen Face Cream for Day and Night
Women on a budget love Loreal Paris, and a lot of them are obsessed with this day & night collagen-boosting cream! It is one of the best collagen creams for ladies on a budget. It is amazing at providing moisture and giving your skincare routine an intense dose of hydration while feeling lightweight on top of the skin. It has a non-greasy texture and is safe to use on any skin types, aside from young teen women. The cream will give you nourished skin in less than one week! Your wrinkles will start to fade around the fourth week.
How To Apply It?
Apply the collagen cream over your face morning and night with your finger by doing upward patting motions. Apply it after you've applied your serum. You can layer under makeup.
Pros
Very affordable
Gives your skin hydration in less than a week
Combats fine lines & wrinkles around the fourth week
Can be used morning & night
Lightweight & non-greasy texture
Cons
Mainly for mature skin types
#3 – Algenist Genius Liquid Collagen
The Algenist Liquid Collagen is an amazing oil that has an incredibly high concentration of active collagen. There are over 13,000 beads of microalgae oil in every bottle which will guarantee you hydration and radiance. With your purchase, you will get 30 mL of product or 1 fl oz. The Genius liquid collagen is formulated without gluten, GMO, waxers, as well as alcohol sulfates & parabens. The plant collagen will mimic natural collagen and will make your skin a lot more bouncy, hydrated & youthful-looking.
How To Apply It?
Apply only one dropper of the collagen serum over your entire face, neck and decollete area. Use the product morning & night.
Pros
Filled with liquid collagen
Has over 13,000 beads of microalgae oil
Natural & free of parabens & sulfates
Gives your skin radiance & hydration
Vegan & plant-based formulation
Cons
Not for you if you dislike oily consistencies
#4 – PCA SKIN Collagen Hydrator Antioxidant Facial Cream
The PCA cream gives you tighter and firmer skin while it is a must-have product for mature skin. Thanks to its fruit extracts such as olive oil and almond, your skin will get infused with all the antioxidants, and the shea butter will soften the skin without making it feel greasy! This product has been formulated to improve your health and skin thickness, and it is free of any synthetic dyes or fragrances. The beauty cream is perfect for ladies who don't mind investing in their skincare items, and who have mature skin with fine lines.
How To Apply It?
Apply this collagen cream morning & night onto cleansed and clean skin. Let it absorb before you move onto other products.
Pros
Perfect for dry skin
Nourishing & moisturizing
Should be used by mature women
Free of synthetic dyes or fragrance
Cons
#5 – St. Ives Facial Moisturizer with Collagen & Elastin
St. Ives is a renewing moisturizer that conditions the skin and gives it a youthful glow! The product is paraben-free, cruelty-free, as well as dermatologically tested. Also, it is made with 100% natural safflower seed oil, and all of its ingredients were picked from Argentina and Australia.
It won't clog your pores, but it will give you a healthy glow. If you are on a budget yet you need a moisturizer that is affordable and does wonders for dry skin, this is it.
How To Apply It?
Use a small amount and rub the product between your palms to distribute it evenly. Apply to your skin and let it absorb. You can use it twice a day.
Pros
Very affordable
Great for any skin type
Does wonders for dry skin
Contains elastin
Made with natural ingredients from Australia & Argentina
Cons
Not for super sensitive skin
#6 – Dr Dennis Gross C+ Collagen Deep Cream
If you are on a drier side and you prefer nourishing and deep moisturizing creams that can give your skin a glow while combating any fine lines or wrinkles, this is it. It comes in a 50g jar (or 1.7 oz jar) and is a must-have for mature and dry skin types.
After regular and often use, around 92% of women have noticed that their skin got a lot firmer. You will enjoy the extracts of vitamin C, as well as Collagen Amino Acids (the building blocks of peptides and proteins) and Camellia Japonica and Sunflower Seed oils since all of these will give you an intense level of hydration.
How To Apply It?
Apply the beauty cream over dry and clean skin. Use it twice a day for more hydrated skin.
Pros
Great for dry skin
Gives radiance and combats fine lines and wrinkles
Safe to use by anyone
Can be used morning and night
Cons
Very thick texture, but it's all about the preference
#7 – Pond's Rejuveness Anti-Wrinkle & Anti-Aging Cream
The Pond's Rejuveness cream is one of the most affordable creams that can help with fine lines and wrinkles while acting as an amazing anti-aging cream.
It is formulated with Alpha Hydroxy Acids that can help exfoliate (gently) to remove dull surface skin cells while giving it firmness and elasticity. In fact, the cream visibly smooths out fine lines in 2 weeks, and it is dermatologically tested! The cream won't clog your pores but it will give you radiant skin! It also contains vitamin E for it's antioxidant effects!
How To Apply It?
Apply the cream onto clean skin every morning and every night. Make sure you add it 15 minutes after you've cleansed the skin, it will sink in a lot better.
Pros
Very affordable
Hypoallergenic
Can be used by any skin type
Helps with fine lines & wrinkles
Cons
Not for you if your skin is super sensitive, or if you are used to high-quality ingredients
#8 – Insta Natural Collagen Night Cream For Face & Neck
Use this cream on top of your face & neck to reduce the appearance of fine lines and wrinkles. The InstaNatural has advanced collagen support which visibly firms and lifts the skin while boosting its elasticity level.
Thanks to the addition of Rosehip seed oil, the cream will penetrate deep into the skin and will provide you with anti-aging benefits while renewing your skin. You may notice that you have skin looking plumper than before with regular use. It is the best solution for ladies with normal-dry skin types. Vitamin C and hyaluronic acid ingredients also helps to brighten the skin which makes it good for dark circles. The brand also manufacture a retinol cream that can be used in the day alongside it.
How To Apply It?
Apply the cream only at night with circular movements. You can also apply it to your neck & chest area.
Pros
Great for dry skin types
Filled with high-quality skincare ingredients
Combats fine lines & wrinkles
Can be used on face, neck & decolletage area
Brightening from hyaluronic acid
Cons
A night cream
A bit pricey
Which One Is Your Favorite?
Our top 8 collagen creams are amazing and will suit mostly mature types of skin and women with drier skin. However, read the specifications, and figure out which one meets your needs, and don't forget to think about your budget before making your purchase.