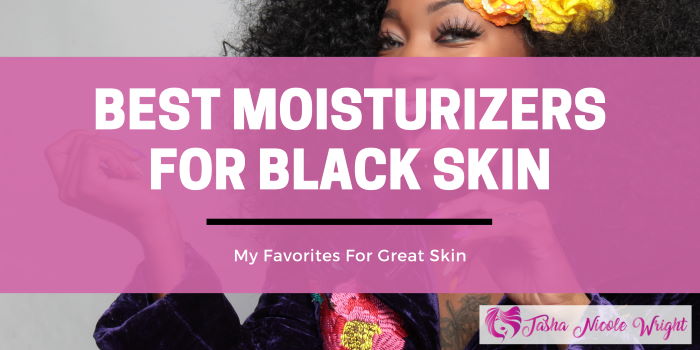 Finding "the one" face moisturizer which is completely catered towards your skin type, skin color & age can be a challenge.
A lot of women also struggle with the right ingredients that are safe to use on their skin types.
Women with darker skin complexions have melanin that often translates to a natural, warm, or a golden hue. If your complexion is anywhere from a sandy caramel to deep rich chocolate, you should have a different approach towards your skin.
Why?
Well, your skin deserves products that are catered toward your concern. Usually, African women are more prone to hyperpigmentation, dark spots, as well as melasma. This is due to their genetics but it can also be hereditary.
Luckily, some brands have ideal products for deep rich complexions.
So here are the best moisturizers for black skin:
Top 5 Face Moisturizers For African Americans
The Era Organics cream is the best face moisturizer for black skin. It comes in either a 2-ounce or a 4-ounce bottle and is filled with vitamins, minerals, and amino acids.
The formula is perfect for dry and dehydrated skin since it is 86% organic, and it will also suit women with sensitive skin types!
Once applied on top, I found the product to leave my skin feeling nourished for up to 12 hours without feeling greasy or wet. This skin moisturizer is also capable of restoring your natural pH balance. Plus, it is also a hypoallergenic product that is safe to use by any age group!
Thanks to its addition of Aloe Vera and hemp seed oil your skin will feel deep hydration and you will experience a healthier glow in a matter of days.
The Manuka Honey extract hydrates the skin and recovers it while also helping with any anti-aging properties. Also, it will boost your production of collagen and will transform many mature skin types!
The Blue-Green Algae is another active ingredient that is high in proteins and fatty acids. These will improve the tone and the elasticity of your skin.
The Cehami Extract (which is an Australian flower) is also used to calm down the skin while giving you proper hydration.
Thanks to the MSM (beauty mineral) your skin will be stimulated to produce collagen and keratin, meaning softer and cracked-free skin. Collagen is one of the key ingredients in the best eye creams for black skin. MSM also helps with any age spots or sun damage, as well as melasma, which is why it is the perfect ingredient for African women.
When To Apply It?
Use a dime-sized amount and rub it into your skin each morning and night. If you have super dry or troubled skin you can reapply the product even more often than that.
Pros
Keeps your skin moisturized for 8-12 hours
Can be used by any skin type
86% organic product
Has a non-greasy texture
Hypoallergenic
Two different sizes available
Filled with high-quality and nourishing ingredients
Vegan formula
Cons
The scent may be too overwhelming to some
Famous for their cocoa butter, the Palmers company is family-owned, as well as family-operated. A lot of women may prefer this product since it is ethically & sustainably sourced, plus it doesn't do any animal testing nor they use animal ingredients in their products.
This Palmer's coconut oil comes in a giant 1.7-ounce jar that is filled with the product all the way to the top, perfect if you wish for a long-lasting moisturizer that will be with you for quite some time.
This cream is pretty affordable, especially once compared to some other brands + you get a lot for your buck. You will also experience 24-hour hydration for an all-day radiant complexion. This cream is also non-comedogenic and is hypoallergenic while being dermatologically tested. It is free from any parabens, mineral oils or dyes, which makes it safe to use on sensitive skin types.
The coconut oil formula also contains coconut water as the main ingredient. So it is perfect for you if you love the scent of coconuts. Coconut water will deeply replenish your skin while also keeping you hydrated all throughout the day. If you are someone who prefers water-based creams over oily creams, you will love this ingredient!
Hyaluronic acid will become a staple in your skincare routine once you pass the age of forty. This product can reduce the appearance of any fine lines and wrinkles while giving your skin optimal hydration while keeping it protected.
Papaya enzymes will infuse your skin with antioxidants. Antioxidants are amazing for your skin since they can reduce free radical production. They will also protect the skin from external factors.
When To Apply It?
Apply the cream twice a day onto cleansed skin. You can also apply it to your neck, as well as before you apply any makeup. Let it sink in before you apply to any other product application.
Pros
Family-owned brand
Affordable cream
Has a watery-consistency
Filled with nourished & high-quality ingredients
Can leave the skin moisturized for up to 24 hours
Safe to use by any skin type
Free of animal ingredients
Cons
Not the best choice for women with super sensitive skin types
Shea Moisture is a brand that is well-known for its amazing curly hair products!
In fact, one of their best-sellers is their shea butter hair cream and hair mask! This just shows you how much they like shea butter in all of their products.
This African black soap moisturizer cream comes in a 2 oz black tube and is a relatively fairly priced item. All Shea products are cruelty-free and safe to use on most skin types. This moisturizer is made for African women, as well as women who want a natural product on top of their skin.
You will love using the product on acne-prone as well as combination skin. It is ideal for everyone + it will easily blend in thanks to its ultra-rich and creamy formula. There are also no parabens, phthalates, mineral oils as well as sulfates in this item. There was no animal testing either.
This cream is filled with some of the best African black soaps which can do wonders for oily skin. In fact, it clarifies oily and blemish-prone skin while removing any dirt from your pores while leaving you nourished.
There is also some Tamarind extract which is a natural astringent that helps with your skin and its exfoliation.
Lastly, there are high concentrations of Tea Tree Oil that can gently purify your skin. As you probably know it by now, Tea Tree Oil is a must-have ingredient for oily skin types and it will easily mattify your skin.
When To Apply It?
Apply the product morning and night after cleansing and toning the skin. Apply it to your face and neck area by doing upward pressing motions.
Pat down the skin so it sinks in quicker and smoother. You can also use this cream as your makeup primer.
Pros
Great for any skin type
A must-have for women with oily or acne-prone skin
Catered towards African women
Has high-quality ingredients
Cruelty-free
No parabens or sulfates
Good price point
Cons

If you wish to have radiant skin and you need moisture you will like this product by Aveeno.
This is a 4-fluid ounce bottle that can even out your skin tone and it will deal with any texture that you might have. With regular use, you will notice how your skin will get rid of dullness as well as dark spots.
Women love this product a lot since it is hypoallergenic as well as non-comedogenic, perfect for women who have larger pores, or who have breakouts quite often! Also, if you wish for a 2-in-1 sort of product, you'll be happy knowing that this one also has an SPF 15 which will protect you from UVA and UVB rays.
Most of the products are specific & unique and they all follow traditional Chinese medicine which will give you porcelain-like skin! The brand has been around since 1945 and they have a full understanding as well as knowledge on how to bring you the best skin care products.
The main ingredient in the product is the Soy complex which will give you an even skin tone while getting rid of any blotchiness or discoloration. The Soy Complex has the ability to transform dull skin into a radiant and brighter outcome. Soybeans are filled with proteins and minerals that will nourish your skin.
When To Apply It?
You should apply the product only in the morning. Apply a generous amount 15 minutes before exposing yourself to the sun. If you're off to swim or sweat, reapply after 60-80 minutes.
The SPF may work only till 10 am and after 4 pm (since it is an SPF 15). Do not reapply the product in the evening.
Pros
Great for dry skin
Sun protection
Affordable
Has soybean extracts
Hypoallergenic & non-comedogenic
Great for the summer season
Doesn't have a heavy scent
Cons
May not work on sensitive skin
You can't use it at night

This is another moisturizer that has an SPF 15 and that comes in a 4-ounce tube. It is specifically formulated to perform silky smooth and to improve the moisture of your skin.
Cetaphil is a well-known brand and they have amazing moisturizers and creams, which is why everyone can use this cream. It is also fragrance-free and will protect you from harmful and damaging UVA & UVB rays. It has a non-greasy texture that won't clog your pores.
Cetaphil is a part of a major dermatology foundation, meaning that most of their products are safe and properly made for every skin type. If you prefer lightweight and hypoallergenic as well as non-comedogenic moisturizes, you will love this one. Women also prefer it since it will slow down their aging process (due to the SPF and proper sun protection).
The main component of this moisturizer is glycerin, and you will love how fast and effectively it will absorb into your skin. Once it does, it will remove any and every dry patch while giving you suppleness and hydration!
When To Apply It?
Since the product has an SPF use it only in the morning or during the day. Apply it 15 minutes before sun exposure. Reapply it every 2 hours (or more often if you're sweating or swimming) and let it sink into the skin.
Pros
Nourishing & moisturizing
Affordable
Has an SPF 15
An amazing & well-known brand
Can be used by any skin type
Non-greasy texture
A large tube filled with product
Cons
What To Look For When Buying A Moisturizer
All skin tones and types are different so there is not a single skincare solution that works for everyone. Here are a few things to take into account before purchasing a moisturizer:
Get To Know Your Skin
You have probably tried a few cosmetics and know what works well and what can give you bad results. If you have oily skin, look for an oil-free face lotion. Go for a lighter gel-based formula.
If you have dry skin, look for thicker creams. Oil-based formulas may be a better choice for you. Alcohol and fragrance-free formulas are a good choice because these can also dry out the skin.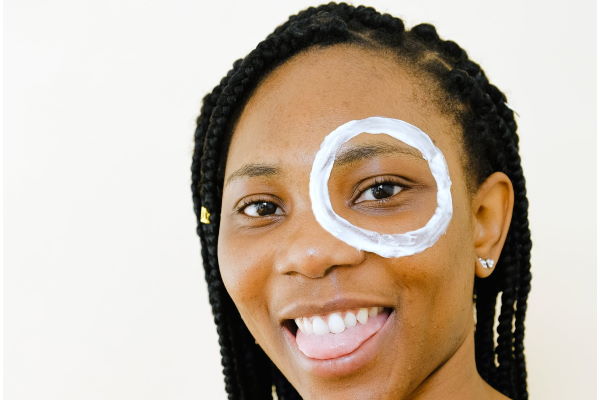 Additionally, for dry skin, you should avoid vitamin a and Retinol and these can hinder moisturization. A rich night cream can give great results for dry skin.
For combination skin, it can be more difficult to find the right moisturizers. Acid-free and fragrance-free face are the best choices.
Formula/Ingredients
A moisturizer is used to hold water within the skin to prevent skin dryness. So it's a good idea to search for a moisturizer for black skin that contains hyaluronic acid, glycerin, dimethicone, and other humectants that can be found in water-based topical solutions.
Other ingredients such as aloe, shea butter, cocoa butter, vitamin E, and African black soap can be great for dry skin. You should avoid salicylic acid and retinol if you have dry skin.
Non-Comedogenic Formulas
Clogged pores can cause uneven skin tones, acne and other problems. So you should look for formulas that are non-comedogenic. The right ingredients will moisturize your skin without blocking your pores.
Skin Tone
Black skin has a high amount of melanin. This has the benefit of better protection from the sun but it can also be prone to an uneven skin tone or dark spots.
A face cream containing ingredients such as vitamin c and niacinamide can help to solve this problem. A daily moisturizer that acts as sunscreen can help to protect you from UV rays and prevent skin discoloration.
Which One Is Your Favorite?
Moisturizers help to prevent the loss of transepidermal water and maintain the integrity of the skin. Your skin can become dry, flaky, and tight if it not properly moisturized. This can cause makeup to not appear as good as it can. Dry skin can lead to skin irritation and itching. In the long term, it can lead to wrinkles and crow's feet.
So, at the end, which moisturizer seems like a must-have for you?
All of these have pretty similar price points, although they will perform differently. Make sure you consider all the top five of your options before making your next purchase!