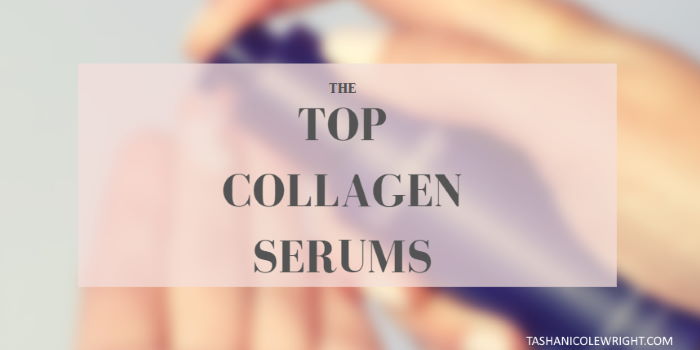 Serums should be a part of your everyday skincare routine, especially if you're struggling with fine lines, wrinkles, and skin texture! Are you unsure which are the best collagen serums for you? Well, these collagen-boosting serums can quickly and effectively sink into your skin, leaving it feeling moisturized and nourished!
As you probably know by now, dermatologists say that we tend to naturally lose collagen after we reach our twenties, which is why you should reactivate it and replenish it with the use of a serum, collagen cream or a supplement!
Here's all that you should know about different types, and their application.
Top 6 Collagen Serums
| | Serum | Rating | Summary |
| --- | --- | --- | --- |
| #1 | Ole Henriksen Truth Serum | | Manufactured by a well-known brand with orange and green tea extracts. |
| #2 | Advanced Clinicals Collagen Facial Serum | | Great budget option and made in the USA. |
| #3 | M3 Naturals Vitamin C Serum | | Hyaluronic acid boosting and skin brightening. |
| #4 | Foxbrim Naturals Peptide Complex Serum | | Contains plant based peptides and vegan friendly. |
| #5 | Allurica Skincare Collagen Serum | | Good for wrinkles. |
| #6 | Elastalift Lifting Serum | | Perfect for sensitive skin. |
#1 – Ole Henriksen Truth Serum Collagen Booster
The Ole Henrikson Truth Serum is the best collagen serum around at the moment. Ole Henriksen is a great brand that is well-known for its skincare products. If you are on the lookout for a good skin serum, you will love it! This is a lightweight and aromatic collagen boosting serum that they claim can easily and instantly penetrate into the deep layers of the skin. There are a number of different sizes available (from 0.25 ounces to 3.4 ounces).
It is also safe to use by those who have sensitive skin, and it features their True-C Complex which contains vitamin c derivatives. The product promotes healthy collagen production and helps with skin brightening, as well as fighting visible aging. Many consider this to be a vitamin C serum rather than one of the collagen variety but I found the energizing citrus to give my skin an overall better appearance and feel.
How To Apply It?
Apply the serum to your neck and face area and let it fully absorb. You can apply the serum twice a day. In less than 8 weeks, you should notice smoother, more radiant, as well as healthier looking skin!
Pros
Great for dry skin
Will give you radiance & a glow
Improves collagen
Contains orange & green tea extracts for skin nourishment
Fights signs of aging
Cons
A bit pricey
Not for you if you dislike citrus
#2 – Advanced Clinicals Collagen Facial Serum
This skincare serum is available in either a 1-pack or 2-pack bottle. It is a collagen plumping serum that assists in bringing back the moisture and get rid of any fine lines, wrinkles, as well as dark circles & age spots! Women with mature skin types will appreciate this product and all of its nourishing ingredients.
The Advanced Clinicals is a highly concentrated facial serum that claims to give you radiance as well as a dewy glow! A very point with this is that the formula is paraben-free, and the product is manufactured in the USA. It hasn't been tested on any animals and it has amazing soy extracts that will combat saggy skin and improve suppleness.
How To Apply It?
Apply this serum only at night. Let the absorption take place fully before you move onto the next step as shown in my guide below.
Pros
Great price point
Will suit mature skin types
Great for boosting your collagen production
Made in the USA
Cruelty-free
Helps with dark circles, fine lines and wrinkles
Cons
#3 – M3 Naturals Vitamin C & Hyaluronic Acid
The M3 Naturals collagen serum has been clinically proven to work to improve skin appearance and increase skin cell longevity. It is great at reducing age spots and fighting off the first signs of aging by minimizing the appearance of deep wrinkles. It also boosts hyaluronic acid production! You can use this skin serum no matter your skin type and it is safe for use by both men and women.
It seems to have a premium quality ingredient list and is manufactured in the USA. The ingredients and antioxidants are also all-natural and cruelty-free. It has some unique stem cell boosting features, where it can also protect you from any sun damage as well as environmental effects. With regular use, this can increase your collagen production, and I noticed that my skin felt more hydrated, vibrant and dullness around my eyes was reduced.
How To Apply It?
Apply a small amount of this product to cleansed and toned skin. You can apply the product twice a day onto your neck, face and decollete areas.
Pros
Helps to reduce age spots
Great for dark circles and wrinkles
Safe to use by any skin types
Natural ingredients and cruelty-free
Made in the USA
Boosts hyaluronic acid production
Cons
The consistency may be a bit too thick for some
#4 – Foxbrim Naturals Peptide Complex Serum
With this serum, you will get 1 fl oz of product (or 30ml). This is a collagen boosting face serum with peptides that can improve complexion and help with your skin's thickness and its natural glow! The solution has a new and improved all-natural formula which includes plant extracts, aloe vera, witch hazel and organic jojoba oil. Plus, it also features hyaluronic acid and a plant-based amino acid blend offering anti-aging properties.
I found this product to improve my skin firmness and even out a few fine lines and wrinkles. It also helped with my skin tone and texture while also restoring elasticity a little. The collagen peptides are vegan that are shown to help with the elasticity and the plumpness of skin and I felt that when using it!
How To Apply It?
You can apply this serum morning and night, depending on your skin's condition. Make sure you dab it in and apply the product with pressing motions.
Pros
Has vegan plant peptides and amino acid blend
Natural, organic and cruelty-free
Will give your skin a glowy look
Helps with fine lines and wrinkles
Firms the skin and reduces skin texture
Cons
May take you some time to spot a difference in your skin with this product
#5 – Allurica Skincare Collagen Serum & Anti-Aging Face Cream

This is a scientifically designed serum which is claimed to give you younger and firmer skin. Thanks to its two patented anti-aging peptides, this exclusive wrinkle reversing technology will leave you with 21% firmer skin!
With regular use, you will remove any fine lines, your skin will look a lot plumper, it will be firm and smooth. You can expect your fine lines to reduce by 11% after three weeks of constant use! This serum is cruelty-free as well as gluten-free, and you will get 30 mL of the product with your purchase and in this bottle!
How To Apply It?
Apply a small quarter-size amount of this serum into your palm, and press gently to your face as well as forehead area. You can apply it twice a day if you feel the need to.
Pros
Has anti-aging peptides
You will get up to 21% firmer skin after regular use
The skin will look a lot more plum & radiant
Gluten-free
Cruelty-free
Helps with fine lines & wrinkles
Cons
It can cause breakouts to some women with sensitive skin
#6 – Elastalift Collagen Lifting Serum
Your skin can look perfect and plump with this collagen lifting serum. It comes in a 1.7-ounce bottle (50 mL) and is made with nature's finest ingredients. It is filled with soy & algae extract (microalgae oils) and is a USA-made serum that is free from parabens, alcohol, dye, as well as mineral oils so you won't need to be concerned with redness or irritation.
It is safe to use by women who have sensitive skin, and it has a non-greasy texture. Thanks to its addition of glycerin, I found my skin feeling a lot more moisturized. l love its hydration and fast-absorbing power! I also found it useful in getting rid os some puffiness it was experiencing.
How To Apply It?
Apply the beauty serum twice a day with your fingers. Make sure you dab it in and let it fully absorb.
Pros
Safe to use by women with sensitive skin
Has a fast-absorbing power
Very affordable
Filled with high-quality ingredients
Made in the USA
Great for any skin type
Gives the moisture to the skin
Cons
Takes some time to absorb into the skin
How To Apply A Daytime Serum?
In the morning, your routine should look like this:
Cleanser
Toner
Serum
Eye Cream
Moisturizer
Sunscreen
Makeup
Application-wise, make sure you use a lightweight serum that is not too sticky or hydrating but is still nourishing. Your makeup application may be a bit messy and uneven if you end up going for a thick serum. Apply facial serums with two fingers and press it deep into the skin. Try to choose natural moisturizers and make sure there is a 2-minute interval between all of your skincare products if you wish for a flawless outcome. There is some controversy around collagen supplementation but if you follow the above procedure, you are more likely to see better results.
When To Apply A Night Serum?
Your night-time routine should look like this:
Cleanser
Essence or toner
Eye cream
Serum
Face oil
Night cream
Go for a thicker and richer consistency at night, and let your serum or collagen cream sink into your pores! If you want to purchase just one (day-time or night-time hydrating serums), rather stick to the night-time one! It can have great benefits for your skin once you let it sink overnight, and it will penetrate every pore.
Which Serum Is Your Favorite?
Find your perfect serum in one of these six options! Just make sure you use the one that suits your skin type, and age group! Many serums make use of different ingredients. Some may contain vitamin E, vitamin B3 or retinol and some might contain glycolic acid. But these will give you radiance, just be persistent with their use!