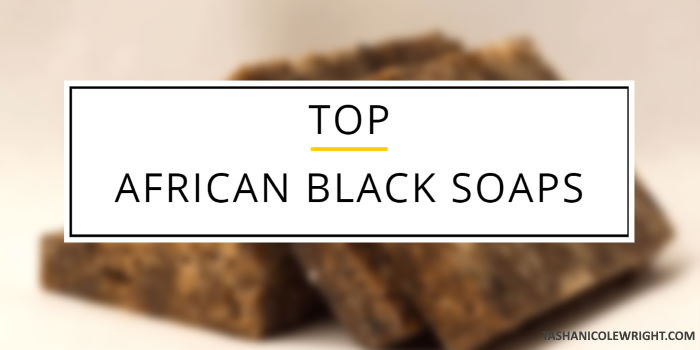 Have you ever used African black soap before? African black soap is well-known and used by women who need deep moisturizing properties, and is also loved by those who want natural ingredients in their skin care routine.
It is considered by many to be a great treatment for acne, inflammation, dark spots and wrinkles. A quick search reveals many stories of the results from this simple skin treatment.
Black soap originated with the Yoruba people in Nigeria and other regions of West Africa and has been used for generations. Nowadays available in stores worldwide (as well as online).
This soap is perfect for all women & men, no matter their skin type! A bar of black soap is made with plantain skins, cocoa pods, kernel oil, as well as other natural ingredients.
In tradition, the plant materials such as palm leaves, shea trees, shells and husks were burnt. Then the black ash, including plantain ash, was mixed with oils such as tea tree oil or palm oil and shea butter to create a black soap bar or a thick black liquid. Soap colors and consistency depend on the different blends of oils, formulations and manufacturing methods.
I've gone through each of these products with a fine toothed comb, just like when finding the top eye creams for black and African skin. So, if you're intrigued and you want to find out a bit more, keep on reading & find your perfect African black soap!
The Top 7 African Black Soaps
#1 – Wonderfully Natural African Black Soap
This is an organic soap which comes in either a 1 pound or 5 pounds pack. The brand is well-known and used by people who have acne or periodical breakouts. This is an African owned company and the fair trade soap itself is made in Ghana.
All ingredients are natural and safe to use on people who are struggling with: dark spots, eczema, dry skin, and psoriasis. There is an in-depth guide on how to use this soap based on your skin type, all included with your purchase! This company has a 100% money-back guarantee during the first 60 days of your trial. I found this particular good on reducing the appearance of dark spots and blemishes on my cheeks!
Pros
Organic and natural
Great at reducing dark spots and scars
Has a money back guarantee policy
Safe to use on sensitive skin and acne
Comes with a spot testing guide and acne guide
Suitable for men, women & children
Cons
May sting your skin a little at first
#2 – Dr. Woods Raw African Black Liquid Soap with Organic Shea Butter
If you want an African black liquid soap this is a great option! It is an organic soap that contains shea butter. So it smells nice and is great for all skin types. This particular one comes in a pack of two, where they come in 32 ounce bottles.
This black soap is good for dry, oily, or normal skin types. It is mild but has exfoliating and moisturizing properties, perfect to use as a facial cleanser, body wash, shampoo & shaving lather. Its thick and rich consistency will easily lather, and you can also spread it over your loofah for a quick body rinse!
Ingredients and nutrients such as vitamins A, vitamin E oil and iron feel calming and soothing on the skin. The soap is cruelty-free and also contains additional fatty acids for healthy collagen production (perfect for your skin & hair).
Pros
Natural & organic
Filled with Shea butter
Great as a body wash
Nice smell
Petroleum-free, detergent-free, and free from sulfates, parabens, and phthalates
Cons
Pricier than a normal soap block
#3 – Sky Organics African Black Soap Bar
This African black soap is 100% natural and claims to contain no sulfates or synthetic fragrances. It is safe to use on many skin conditions. There are options of either one single pack or three packs of products where each bag has 16 ounces!
This soap also is handmade in Ghana and is filled with moisturizing cocoa butter, shea butter, aloe vera, as well as vitamin E. It also contains coconut oil which is known to reinforce the lipid barrier of the skin. With regular use, this soap will soften and cleanse without irritating the skin and it can be used on your body & face.
I found it to help combat the look of blemishes and promoted skin clarity. Also, it is 100% vegan and cruelty-free.
Pros
Contains additional aloe vera and coconut oil
Will make your skin clean & refreshed
Organic & natural
Vegan & cruelty-free
Made in Ghana
Affordable
Cons
#4 – Shea Moisture African Black Soap Bar
This is an 8 oz bar of soap which is perfect for women who need moisture! This African black soap has shea butter as its main ingredient. It is also made from palm and plantain peel ash and it can balance out oily skin.
The product is organic and natural, as well as vegan. There are no preservatives, parabens, phthalates, mineral oils or sulfates in this bar. This soothing soap is perfect for relieving symptoms of eczema or psoriasis. The company Shea Moisture has been around since 1912, and the brand is well-known for its high-performance & top-notch quality.
I personally found this luxurious feeling black soap to smell great!
Pros
Giant bar of soap from a well known brand
Made in Africa
Best for cystic acne
Helps with eczema or psoriasis
Natural & vegan
No additives such as parabens, phthalates, mineral oils or sulfates
Cons
Skin may feel and look a bit flakey on first use
#5 – Our Earth's Secrets Raw African Black Soap
If you are on a lookout for a raw soap, give this one a chance! It is a 100% natural soap from Ghana, and it weighs 907 grams! It is pretty affordable and safe to use on your face, body or hair.
Both men and women can use this soap and it may intrigue you at its affordable price point. Ingredients such as Palm kernel oil, coconut oil, shea butter & natural vitamin E will feel soothing against your skin. There are no artificial fragrances in this soap and you can use it per your preference.
I found this to have strong exfoliating properties and a little of it goes a long way.
Pros
Affordable
Lasts a long time
Can be used on your face, body & hair
100% natural
Made in Ghana
Filled with high-quality & nourishing ingredients
Cons
May cause breakouts if you are prone to them
#6 – Incredible By Nature Raw Organic Soap
This African soap is raw & organic + it has 100% pure ingredients. You will get 16 oz of product and you will enjoy all of its ingredients such as cocoa pods, shea butter, purified water, as well as natural Sodium & Vitamin E.
It comes in either a 1 or 5-pound bar of soap and this is also made in Ghana, Africa. All of its pure ingredients will help out with the smoothness as well as spots & wrinkles! Also, your skin complexion will be blemish-free and will feel a lot softer with regular use. It is also hypoallergenic and not tested on animals.
The company offers a 30-day money-back guarantee in case you end up disliking your soap. I found it particularly soothing to my skin.
Pros
Made in Ghana
Nourishing & hypoallergenic
Not tested on animals & vegan
Helps with wrinkles, spots, as well as dark circles
Cons
Not for people who have super sensitive skin
#7 – Dudu Osun Black Soap
This black African soap is a little different as it comes in more branded packaging than other types. But it is still a nourishing & tropical product, filled with high-quality ingredients! I found its soothing scent to feel calming. You will get six soaps with your purchase where each bar of soap is 150 grams in weight.
The main ingredients of this soap are Shea butter with honey, camwood, Palm kernel oil, cocoa pod ash, palm bunch ash, aloe vera, and lime juice. The brand has been around since 1990, and they have some amazing products that are natural & filled with tropical ingredients! You can use this soap for your hair, face & body.
I found it to have a stronger scent than other black soap bars and also was effective in cleansing.
Pros
You get six bars of soap
Natural & organic
Safe for men, women & kids
Can be used on your body, face & hair
Feels soothing for your mind due to its scent
Good price
Cons
The scent may be overpowering and harsh to some
What Are The Benefits Of African Black Soap?
By adding an organic African Black soap to your skin care routine, you can reap many of the benefits it has to offer. A study on African black soap by the Journal of Clinical and Aesthetic Dermatology revealed that is effective for treating many dermatological conditions. This beauty soap has many of its claims backed by scientific evidence:
UV Damage Protection – African black soap is protective against skin cell damage from the sun. This helps to prevent dark spots and hyperpigmentation.
Exfoliating – African black soap is gently exfoliating and so helps with the removal of dead skin cells and cell renewal. This can help with acne scarring, stretch marks and other skin issues. It can also give a smoother skin texture.
Inflammation Soothing – A good African black soap will contain shea butter and vitamin E. These help with skin hydration, protection and soothing irritation. It is good aftershave as it is effective for razor burn.
Antibacterial – Black soaps are naturally antibacterial and free of chemicals. So they can help those who have facial acne-prone skin or body acne may find that it can reduce sebum levels and balance skin oil, pores are less clogged. A good African black soap can also help with acne breakouts and pimples by reducing Propionibacterium acnes bacteria.
When & How To Use A Raw African Black Soap?
If this is your first time using African black soap make sure you don't go in with the harshest kind. Some soaps may irritate your skin, especially if your skin is sensitive or prone to irritations & allergies.
Upon your first use, your skin may feel a bit tight and dried out.
This is because these soaps are known for drawing out impurities and excess oils, as well as moisture from the skin. It can take some time for your skin to get used to them, so use these soaps only 2-3 times a week, at first. Rinse out the product with cool water to let your skin experience that "squeaky clean" feel!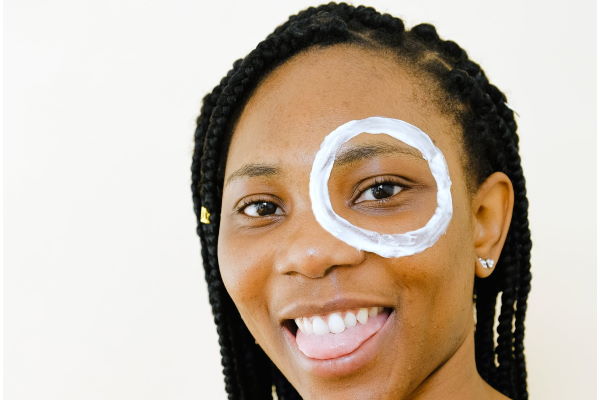 There are many different ways that an African black soap can be used:
Face wash – The standard way of using black soap is as a facial cleanser. With the raw natural soap, you just need to take a chunk or small block of it and make it into balls. Then, using water, gently apply it to your face.
Body wash or body scrub – A cleansing body wash can be purchased or made from a block by soaking it in purified water. This will dissolve into a natural liquid body wash.
Face mask – African black soap can be used to create a detox face mask. Simply dissolve it into hot water mixed with baking soda, honey and essential oils such as lavender, chamomile or tea tree.
It is important to add lotion or moisturizer on top of your skin after using the black soap from Africa. Make sure your skin is nourished and hydrated after each use.